How I Marvelled At Black Panther's Reimagining Of Africa
The Oasis Reporters
December 28, 2022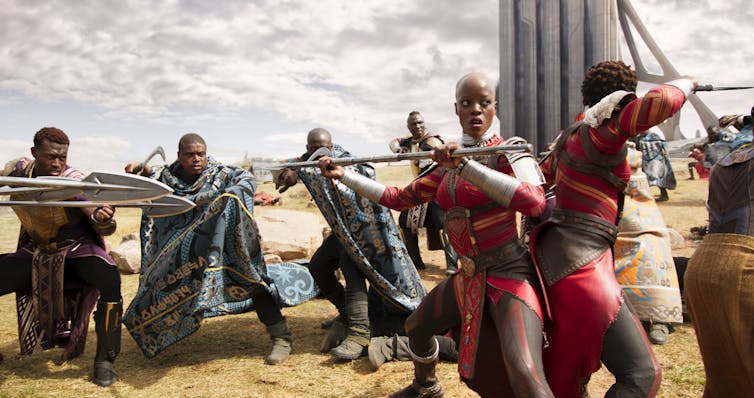 Dr Edward Ademolu PhD, FHEA, University of Manchester


Watching Marvel's highly anticipated comic-book film adaptation, Black Panther, was no ordinary tried and tested cinematic experience. Much like the unapologetic showmanship, flamboyance and atmospheric idiosyncrasies of Sunday service black congregational worship, the cinema metamorphosised beyond its remnants of unswept popcorn kernels and sticky milkshake residue into an augmented space. It became a "mega-church" sanctuary of spiritual catharsis –with all the impassioned and melodic trimmings of Afro-Pentecostalism.
But, make no mistake, this was not the time nor place for solemn contemplation or confessing past transgressions – but an opportunity for continental Africans and diaspora to offload socially sanctioned climactic expressions of individual and collective excitement and expectations, as well as lip-bitten anxieties about a fictionalised Africa.
If this was an Afro-baptism in filmic spirit, I sought – and submitted to – full-bodied immersion.
Let's be clear, the fervour over Black Panther among the Ankra-wearing, close-cropped Afro-crowned cinemagoers is incredibly warranted for several reasons. Not least for its reimagining, its re-presentation of Africa and communities therein – with magical realism – that makes it an intriguing anomaly among the slew of other questionable Western cinematic attempts to deliver "Africa" on screen.
Die-hard Marvel fans and those newly christened have waited with baited breath to secure a one-way ticket to Wakanda – the wondrous Afro-futuristic utopia and homeland of the titular character Black Panther (played by Chadwick Boseman). But this is by no means Hollywood's first foray into fictionalised African kingdoms. Before Wakanda, there was the similarly named and seemingly "African-sounding" Zumunda in Eddie Murphy's 1998 blockbuster Coming to America.
But Zumunda presented as nothing more than a visual repository of African clichés and normative assumptions, where wild animals, as domesticated pets, cohabit "as they do" nonchalantly with humans. So too, where royalty enrobe in lion's fur. As the Nigerian literary darling Chimamanda Ngozi Adichie put it:



If all I knew about Africa were from popular images, I too would think that Africa was a place of beautiful landscapes, animals and incomprehensible people, fighting senseless wars, dying of poverty and Aids, unable to speak for themselves.
If only I could speculate on what may have informed such a proclamation … dare I venture towards films such as The African Queen, Out of Africa, Hotel Rwanda, The Last King of Scotland, Blood Diamond, Beasts of No Nation – to name a handful.
Africa's burden
Those cinematic offerings were the colonial-era mythmakers and extenders whose white lensed romanticisms have determined the space within which Africa is defined and knowable. It is also within this space that the complexities and pluralities of African representation have been lost in simplification and concealment.
Surely these films must have affixed the "Afro" in the unmistaken and riotous Afro-futurism of Black Panther. But its the "futurism" aspect that makes Black Panther stand head and shoulders above the rest. Showcasing an iteration of Africa that is more imaginatively radical than merely culturally palatable for audiences who are used to being spoon-fed – better yet, force-fed – microwavable doses of an Africa that is melancholic, benighted and savage, to satisfy their visually myopic cravings.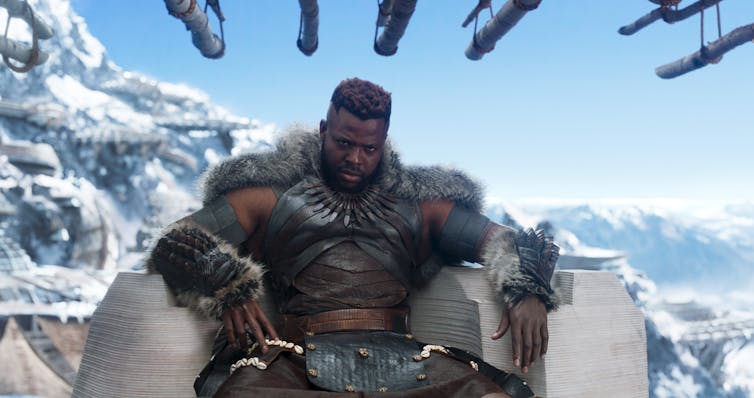 Unlike its predecessors, Black Panther's Afro-futuristic elements challenge stereotypes by readjusting the barometer of African imagination. Where Africa and black-Africanness is equated with discourses of futurism, cybernetics, sci-fi fantasy and mysticism.
New African century
This is a far cry from previous film interpretations of Africa, and especially of Africa's future – or lack thereof. It has too often been represented as provisional and ephemeral – or arbitrated by the technocratic and philanthropic efforts of white do-gooders. Instead, Black Panther provides a prophetic reimagining of Africa with its postmodern gravity-defying vehicles and supersonic technology that far exceed human comprehension.
This has important implications for how we see Africa, through films which have long anchored it in a "forever-more" state that is seemingly unenlightened, backward-leaning and perceived as a prolongation of the past.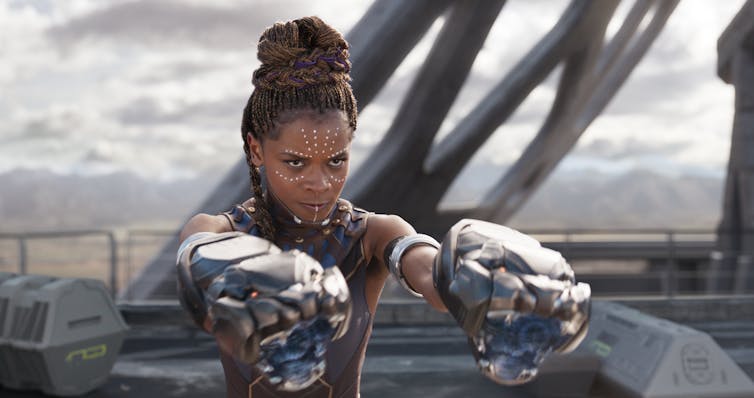 So, too, the film speaks volumes about how young and old black African "selves" can infiltrate otherworldly spheres. Its Afro-futurism allows black folk to apply self-iterations and augment alternate realities that transcend the limitations of the "here and now" towards the "what ifs" and "could bes", through their own melanin-infused, ethno-cultural lens.
Equally, with its vestiges of the past and nods to the future, Black Panther presents a certain "contemporary ordinariness" within Africa that is discernible in all its parts. Where streets of African cities, for example, are littered with mother-tongue speaking, iPhone-clutching youth, dressed in dashiki-patterned bomber jackets, skinny jeans and with basket-woven braided hairstyles.
Moreover, the portrayal of Wakanda as resource-rich, unsoiled by European colonialism and the paraphernalia of international development, challenges cinematic presumptions of an Africa that is deficient, agentless and lacking internal diplomacies for sovereignty.
Africa upgraded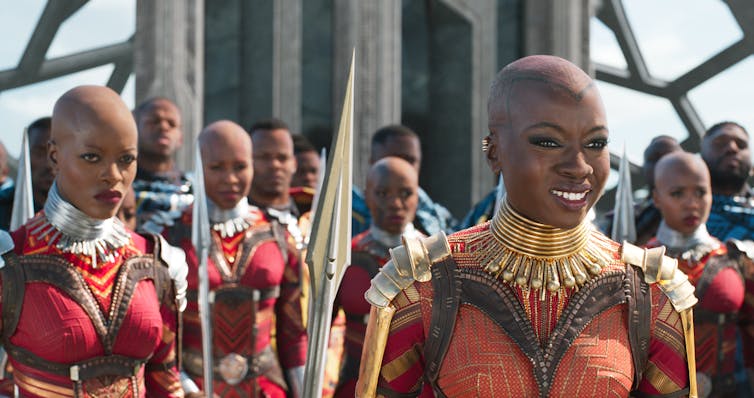 This is further reinforced by the central staging and representation of steely-eyed, intelligent African women – as Beyoncé avows in her feminist-imbued record Upgrade U, if the men are "the block" the women are "the lights that keep the streets on". We see this in the female Wakandans, the unyielding pillars of the film, who demystify allusions and illusions of Africa – through its female proxies – as infantilised, subordinate and devoid of individual articulation of unique intent.
As a Marvel trailblazer, Black Panther is stunning in its redefining of Africa's aesthetic within the cultural zeitgeist of cinematic consciousness. It trades cinema's historical blueprint for Africa, for its own set of black paws. Suffice to say, representation (in all its shades) matters.

Dr Edward Ademolu PhD, FHEA, PhD Researcher at the Global Development Institute, University of Manchester
This article is republished from The Conversation under a Creative Commons license. Read the original article.