Samia Suluhu Hassan Is Reforming Tanzania – It's Winning Her Fans But Boosting The Opposition
The Oasis Reporters
February 18, 2023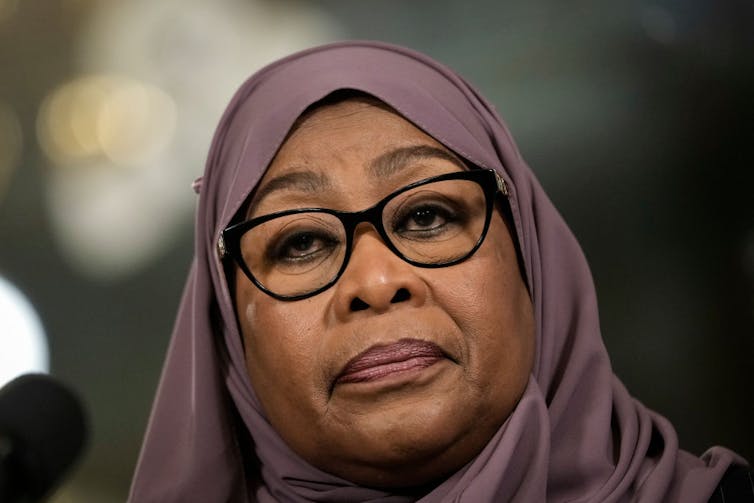 Nicodemus Minde, United States International University


A series of political manoeuvres by Tanzania President Samia Suluhu Hassan have set the east African country on an unfamiliar, yet hopeful, political path. Since her elevation to the presidency two years ago following the death of John Pombe Magufuli, the new president has struck a reformist political tone and led reconciliation with a previously marginalised opposition. None of this would have been possible under Magufuli.
Magufuli not only stifled the opposition, but also went as far as threatening to annihilate it. Hassan has made several reforms, including reconciliation talks between the government and the opposition. Her government also lifted the ban on newspapers.
Hassan has made a significant break from her predecessor. There was little civic and political space under the late president. There was violent crackdown on the opposition and the media.
Hassan has placed strong emphasis on reconciliation, resilience, reform and rebuilding. She has reversed most of her predecessor's retrogressive policies. For example, she has ended the ban on pregnant schoolgirls in classrooms. She has also opened up the country to foreign investments.
Her most recent initiative was to lift the ban on political rallies and activities. Magufuli banned opposition political rallies and activities in 2016. The unconstitutional move came at a time when the main opposition party – Chama Cha Demokrasia na Maendeleo (Chadema) – was planning nationwide rallies to protest Magufuli's repressive and authoritarian rule.
A year ago, Hassan met exiled opposition figure Tundu Lissu in Brussels, and he has returned home. She went on to play a role in the release of Chadema chairman Freeman Mbowe, who had been in prison for 18 months facing terrorism charges.
Alongside the reforms, Hassan used her first full year in office to consolidate her political base. She seems to be carefully strategising her reforms with the 2025 elections in mind. All her actions to remake Tanzania's political landscape need to be seen in the light of those elections. She will go into the election as a clear favourite.
But the reforms are a double-edged sword for the president. They have endeared her to many, but also breathed new life into the opposition.
Hassan's power game
Hassan moved quickly to consolidate her base after the death of Magufuli in 2021. On the anniversary of her ascent to the top office, she spoke about the difficulties she had endured during the transition. She observed that her "rivals" had already begun plotting for the 2025 elections.
To strengthen her base, she brought back into the fold people who had been sidelined by Magufuli. One was former president Jakaya Kikwete. She also made several changes in her cabinet and the governing structures.
Another part of her 2025 game plan has been the overtures she's made to the opposition. Having served as Magufuli's vice-president, she understands the intricate political games needed to win an election.
Reform agenda
In December 2021, Hassan set up a taskforce on political reform and democracy. It met with political stakeholders and drew up a set of key policy proposals:
political parties should be allowed to conduct public rallies and hold internal meetings
an independent electoral body, free from interference from the executive
presidential election results should be subject to challenges in court, as the African Court on Human and People's Rights ruled in July 2020
the Political Parties Act should be reformed to allow more political participation for women and special groups, such as persons with disabilities.
Divisions over the constitution
The next hurdle for Hassan is addressing discontent over constitutional reform and policy priorities. Her recent taskforce recommended completing the stalled constitution review process initiated eight years ago. After the 2014 review, a proposed constitution was passed, awaiting referendum.
Opposition politicians are opposed to the content of the proposed constitution. They are pushing for an earlier draft constitution spearheaded by constitutional reformist judge Joseph Warioba, terming it the people's constitution.
The ACT-Wazalendo party is also pushing for the creation of an independent electoral commission before a new constitution. Chadema continues to push for a new constitution as the panacea for Tanzania's development.
Hassan has demonstrated political skill and tact well beyond her two years' experience as the country's leader. Her stand on a new constitution remains tepid. She previously stated that her priority was the economy and the constitution would come later. But it would not be surprising to see her meet the opposition halfway on their demands for a new constitution.

Nicodemus Minde, Adjunct Lecturer, United States International University – Africa, United States International University
This article is republished from The Conversation under a Creative Commons license. Read the original article.