The Link Between Public Violence And Xenophobia In South Africa
The Oasis Reporters
November 12, 2022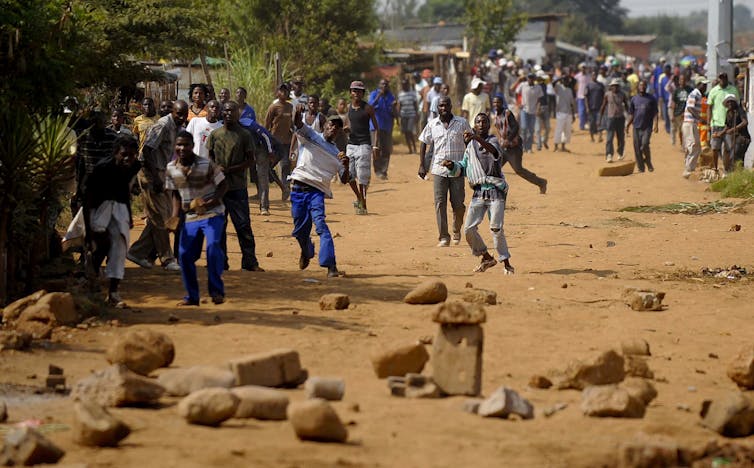 Loren B Landau, University of the Witwatersrand and Jean Pierre Misago, University of the Witwatersrand


South African media last year published an unsettling interview with Mandla Matikinya, a branch leader of the African National Congress (ANC) Youth League. In it he advocated looting foreign-owned shops over schools and public buildings. This was in the wake of the violence that followed the governing ANC's choice of a mayoral candidate for the Tshwane metropole.
Over the past decade South Africa has seen a strong connection between political protests and the looting of foreign-owned business. The question is: why?
The simple answer is that local leaders need protests to maintain their power and legitimacy. And the protesters need to be fed. Looting is the way to fill their stomachs.
The frequent connection between public protest and attacks on foreign-owned shops nationwide should be understood against the backdrop of the fragmented, patrimonial politics characterising many South African townships. In some instances it may stem from opposition party action, but there is no evidence of a "third force", as government officials have occasionally suggested.
Local political aspirants and office holders often organise violent protests to attract attention and resources from the local, provincial and national government.
If we understand protesters as infantry working for local leaders, looting sustains a mercenary army. Given the reluctance of police or citizens to aid foreign shop keepers, they are easy targets.
This puts investment in the economy, personal safety and the democratic political process at risk.
Informal and indirect township rule
The violence speaks to broader concerns about how South Africa's townships are governed. While ward councillors and officials have their place, many spaces are effectively controlled by an alternative, informal politics.
Some structures descend from the violent struggle against apartheid. These include civic associations, hostels, or other community "safety groups" that are well established as de facto administrators and governors.
Other structures are led by politicians excluded from party lists or electoral success. To negotiate their way back into the fold or simply to access the benefits of office, informal political actors create parallel regimes, often with the complicity of officials, police and elected politicians.
Our research, whose findings are set to be released later this year, shows that, recognising the power such people hold, the ANC has in many instances institutionalised a system of indirect rule in which it attempts to co-opt and contain these informal authority systems and rogue appointees.
The Mamelodi case study
In recent months, researchers from the African Centre for Migration and Society have been visiting townships to study this phenomenon.
In Mamelodi, the site of some of the most recent violent protests, we came across the Phomolong Residents' Association, a group loosely affiliated with the United Democratic Movement, one of the country's smaller opposition parties.
This association is the de facto community leadership structure in the Phomolong informal settlement, where violent attacks on foreign nationals usually start before spreading to other areas.
As is the case with similar bodies across the country, the association has largely supplanted local leadership and authority. Its activities include providing residents with the documentary proof of residence they need to access services at local institutions. It also provides varied conflict resolution interventions.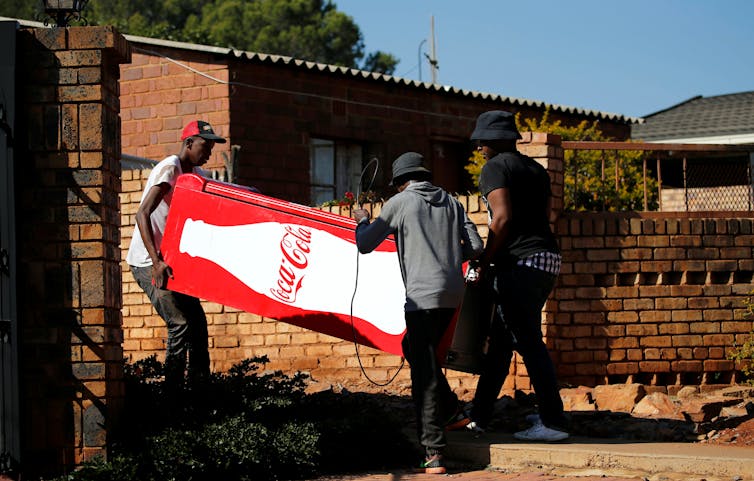 In interviews with researchers, the association representatives admitted they are the ones who organise violent service delivery protests that usually end with attacks on foreign-owned businesses.
One of the interviewees told us:



We need the protesters to make our point, but when they are hungry they go and get food from shops to eat or take home to cook; and if shops here are closed they go to shops in other locations.
As many of the small township shops are foreign owned, this translates into what is now widely called "xenophobic violence". When local shops have already been looted or there are more vulnerable ones nearby, such attacks can spread from one neighbourhood or township to another. Protests may not immediately bring results to leaders or citizens, but looting does. The benefits of pillage can rapidly become an end in itself.
The politics of violence
Public protest and xenophobic violence are the means for self-appointed "community leaders" already in charge, or those hoping to be, to build the legitimacy and resources they need to rule. Leaders must provide, and protest and looting are ways of doing so. Much as the police have long treated foreigners as "mobile ATMs [cash machines]", local "leaders" use foreign shops as a continual campaign fund.
While Matikinya's endorsement of attacks on foreign-owned shops is outrageous, he is not an aberration. He and the Phomolong Residents' Association are indicative of the kind of micro-politics and political economy that helps drive community-based violence and violent xenophobic attacks nationally.
As Minister of Small Business Development Lindiwe Zulu recently acknowledged, community leaders mobilise communities to attack foreign-owned businesses for their own interests.
Violent protest is used to claim or consolidate power and authority while furthering political and economic interests. There are many nested political orders in South Africa. As informal settlements grow and their informal leaders gain relative power, they have become an increasingly potent political force. They may not be running in the August local government elections, but they are the de facto local government for millions of people, and they are fighting to maintain the benefits of office.

Loren B Landau, Research Chair on Mobility & the Politics of Diversity. Migration; Urbanisation; Refugees; Xenophobia, University of the Witwatersrand and Jean Pierre Misago, Researcher, University of the Witwatersrand
This article is republished from The Conversation under a Creative Commons license. Read the original article.