The Story Of Israel And Palestine In Comic Strips
The Oasis Reporters
October 30, 2023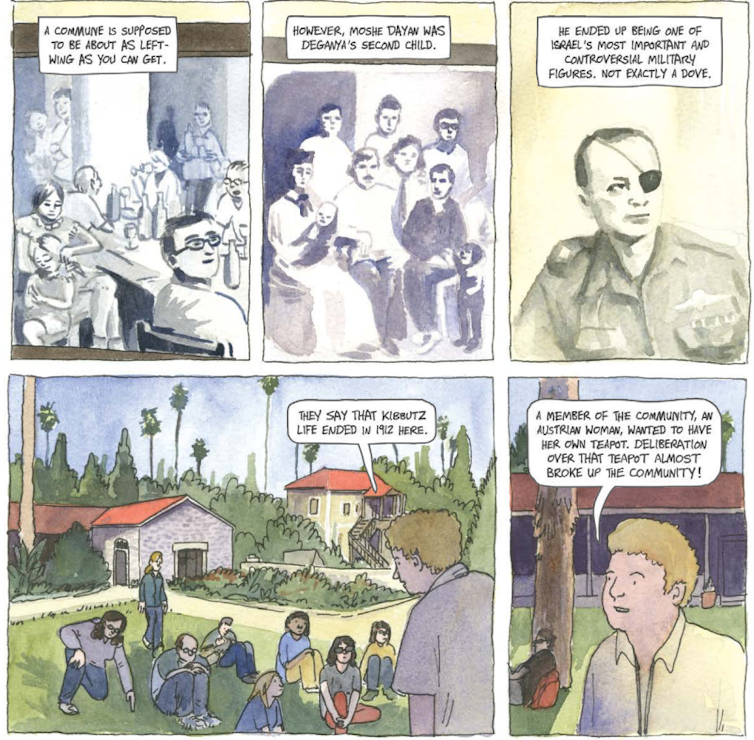 Elena Pérez Elena, Universidad Autónoma de Madrid


By way of land, sea and air, Hamas has reignited a major conflict that had lain dormant for almost half a century. They broke down the barrier dividing Palestinian territory from Israeli, killed civilians and took hostages, many of whom were attendees at an electronic music festival being held near the border with the Gaza Strip.
The response was immediate: "Citizens of Israel…We are at war and will win." With these words the Israeli Prime Minister Benjamin Netanyahu declared war on Hamas. This was much to the detriment of the Palestinian people, as has been seen across the world's media in recent weeks.
Israel's continued occupation of Palestine has lead many prominent figures to call Gaza "the world's largest open-air prison". The situation is more political than religious, as the international community recognises the State of Israel (created and institutionalised in 1948), but not all recognise the Palestinian State. Palestine is a land that is significant to both peoples, and proactive action is needed by Western societies to try to understand what has happened and what continues to happen in the region.
A story told in comic strips
In these times, comics and graphic novels can offer an incisive, insightful medium for thoughtfulness and reflection, as numerous press cartoonists are using their platforms to denounce war and death, such as Coco, Joann Sfar and Mana Neyestani.
The following is a selection of graphic novels that invite us to delve into both the roots and the present-day nature of the conflict. All of these works can be found freely online, in bookstores and in many public libraries around the world.
Best of Enemies: A History of US and Middle East Relations by Jean-Pierre Filiu, and David Beauchard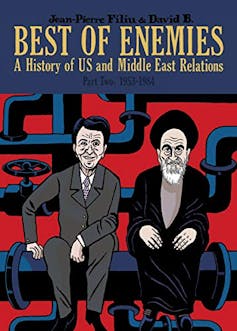 The second volume of this series –Best of Enemies: A History of US and Middle East Relations, Part Two: 1953-1984– looks at the strategic situation and international politics of the Middle East from the 1950s to the 1980s.
The narrative focuses on this turbulent period in world history, with events such as the Islamic Revolution in Iran in the late 1970s, and the Six-Day War between Israel and Egypt, Syria and Jordan in 1967. It presents events through dreamlike drawings and unrealistic proportions, using a black and white style reminiscent of the newspapers and archival footage of the time.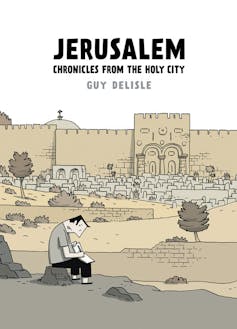 Jerusalem: Chronicles from the Holy City by Guy Delisle
Guy Delisle, a Canadian author, documents his travels with his wife, an administrator for Doctors Without Borders, with whom he has also travelled to (and written about) Pyongyang and Shenzhen. Here, he writes about his year long stay in the city of Jerusalem.
Using colour in clear, uniform tones and narrating in the first person, Delisle's style joins up the simultaneous experiences of being a tourist and documentary artist.
In his enriching comic strips, the author reflects the prejudices and stereotypes that he had previously held, which gradually shift as he experiences the complex daily life of the city first hand and listens to accounts told by residents of the city.
Palestine and Footnotes in Gaza, by Joe Sacco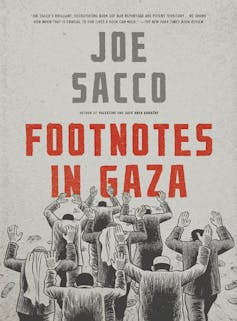 Most of Maltese-American cartoonist Joe Sacco's works can be classified as "graphic journalism".
In Palestine, originally published as a serial from 1993-1995, Sacco opens a window onto the checkpoint filled world of occupied Palestine in the early 1990s. He uses his position as a journalist to move between the daily life of Israelis and Palestinians, twenty years before Delisle. The comic is in black and white, and narrated in the first person. In it, Sacco shows his desire to learn, acknowledging his shortcomings, and displaying a sharp, caustic and dark sense of humour.
Through his eyes, the reader can delve into events such as the Nakba in 1948 and the 1973 Yom Kippur War, as well as the role played by the UNRWA (United Nations Relief and Works Agency for Palestine Refugees in the Near East).
Footnotes in Gaza (2009), originally commissioned by the magazine Harper's, is also based on first hand accounts, focusing on the cities of Rafa and Khan Younis. Here Sacco examines the origins of the Israeli-Palestinian conflict, going back to the aftermath of the Sinai War in 1956. Heartbreaking and painful, it provides much food for thought.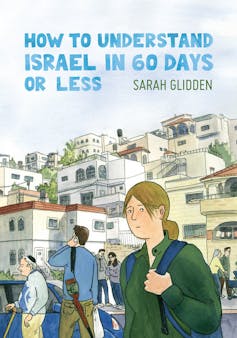 How to understand Israel in 60 days or less by Sarah Glidden
The author of Rolling Blackouts offers a first person account, drawn in colour, of a trip to Israel in 2007 under the Birthright programme.
Birthright –a delicate and highly controversial subject– is the precursor to the Law of Return, which grants any Jew, or person with one or more Jewish grandparent, the right to emigrate to Israel.
While discovering her Jewish roots, Glidden takes the opportunity to form her own opinions about the Israeli-Palestinian conflict.
Tunnels by Rutu Modan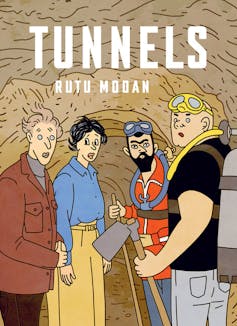 In this full colour fiction Modan, an Israeli author, uses the Israeli-Palestinian conflict as a backdrop to tell the story of an Israeli archaeologist's excavation work.
Exit Wounds is another highly recommended fictional work by Modan which takes place in the same tense setting.
Other references
The historic and current conflict has also been explored in José Pablo García's Vidas Ocupadas (in Spanish), in Jerusalem by Boaz Yakin and Nick Bertozzi, the graphic novel adaptation of Yasmina Khadra's The Attack by Dauvilier and Chapron and Not the Israel my parents promised me by Harvey Pekar together with J.T. Waldman and Joyce Brabner.
Additionally, there are the historic, iconic Handala comic strips by Palestinian artist Naji Al-Ali. Another recommended resource is the 2001 documentary Promises by Justine Shapiro, B.Z. Goldberg and Carlos Bolado, in which the protagonists, children, are foregrounded, resulting in a powerful, enlightening work.
Today Hamas continues to kill civilians and keep hostages. Meanwhile, Palestine remains under siege, and the Palestinian people are being massacred by the Israeli government. These pictures of the past continue to be as current as they ever were.

Elena Pérez Elena, Doctoranda FPU en el programa Estudios Artísticos, Literarios y de la Cultura de la UAM y profesora en el Grado de Lenguas Modernas, Cultura y Comunicación (UAM), Universidad Autónoma de Madrid
This article is republished from The Conversation under a Creative Commons license. Read the original article.