Waging Peace: Women's Century-long Campaign To End War Continues
The Oasis Reporters
October 30, 2023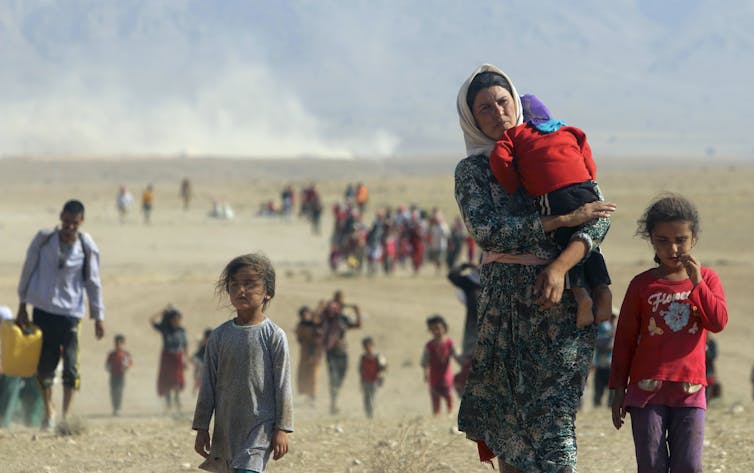 Katrina Lee-Koo, Monash University and Sarah Boyd, Monash University


United Nations Security Council Resolution 1325 turned 15 on October 31. The most notable of the worldwide celebrations was in New York, where representatives of UN member countries and women's civil society organisations gathered throughout October to celebrate progress, highlight roadblocks and forge new ways forward.
It is odd that a Security Council resolution should have a birthday party. Resolution 1325 is the only one that does. But this one is special. It is the landmark resolution that established the UN's Women, Peace and Security (WPS) agenda.
This agenda recognises the relationships between women, armed conflict and the struggle for peace. It acknowledges that armed conflict has unique impacts on women and girls, and that their contributions are central to building peace and security.
The WPS agenda is based upon three main pillars: the prevention of armed conflict, the protection of women and girls in armed conflict, and the participation of women in peace and security processes. There is a commitment to ensure that a gender perspective is mainstreamed into all of the UN's peace and security work.
The most recent of eight WPS resolutions is UN Security Council Resolution 2242. Adopted in October, it highlights the impact of violent extremism and terrorism on women, and women's central role in countering this global trend. UN Secretary-General Ban Ki-Moon said:



At a time when armed extremist groups place the subordination of women at the top of their agenda, we must place women's leadership and the protection of women's rights at the top of ours.
This is strong rhetoric. But after 15 years, have we seen sufficient action? Perhaps the best birthday present Resolution 1325 could receive was a 418-page global study designed to answer this question.
As its title suggests, Preventing Conflict, Transforming Justice, Securing the Peace makes (at least) three important points, which are designed as a significant course correction to the UN's peace and conflict work.
Ending or regulating war?
First, the report argues, the UN's priority should be preventing conflict.
This is an agenda that the UN has had difficulty with. Security Council debates on when and where to sanction the use of military force have marginalised conflict prevention. This makes little common sense: preventing conflict would preclude the need for protection or peacemaking. These debates make even less sense when we consider the Security Council's five permanent members are among the world's largest arms dealers.
To the century-long activist movement of the Women's International League for Peace and Freedom, this continues to make little sense.
In 1915, as war raged across Europe, more than 1200 women from 12 countries travelled to The Hague to study, debate, protest, make known and eliminate the causes of war. While the nature of armed conflict has changed greatly since then, the resolutions they created in 1915 were precursors to Resolution 1325 and the WPS agenda:



General Disarmament: "It sees in the private profits accruing from the great armament factories a powerful hindrance to the abolition of war."





Women's Suffrage in War: "This International Congress of Women oppose the assumption that women can be protected under the conditions of modern warfare. It protests vehemently against the odious wrongs of which women are the victims in time of war, and especially against the horrible violation of women which attends all war."
On the 100th anniversary of this movement, peace activists and women's rights advocates – including one of this article's authors – gathered again in the Hague to set a new peace agenda. It is no coincidence that the strategies they discussed are consistent with the global study.
The study advises how to re-focus attention on the causes of conflict. It offers advice on creating early warning systems that monitor indicators of the probable onset of armed violence, such as violence against women.
Recommendations also address longer-term and structural causes of conflict. These include social and economic deprivation and exclusion, population growth, environmental change, extremism and weak governance. Importantly, these impact men, women and different gender identities in materially different ways.
Debates on the recently agreed 2030 Sustainable Development Goals show us that addressing these long-term issues is not easy. However, the study is a timely reminder that the path to peace does not need to be through war but ideally via sustainable development and human rights.
Human rights or security?
The global study's second point reminds us that UN Security Council Resolution 1325 was born out of a human rights framework. Why is this important? The Security Council has been criticised for co-opting the women's rights agenda, leading to claims that women have been "securitised" within a conflict mindset.
This has led to an overwhelming, and some might suggest disproportionate, focus on protecting women from sexual violence as opposed to pursuing gender equality.
Alternatively, it is argued, the human rights framework has a stronger tradition of including women's priorities and needs. It brings into focus, for instance, the importance of ending impunity for crimes against women, the underlying inequalities that make women and girls so vulnerable in conflict, and the need to include women's participation and leadership in all aspects of transition to a post-conflict society.
Women's leadership
Ensuring women's meaningful participation in all peace and security processes is the third theme of the study. Recent research shows that peace processes that include women have a greater chance of success.
Women's empowerment and leadership is itself a conflict prevention strategy, as the women of 1915 identified:



Since the combined influence of the women of all countries is one of the strongest forces for the prevention of war and since women can only have full responsibility and effective influence when they have equal rights with men, this International Congress of Women demands their political enfranchisement.
Yet today women are locked out of peace processes in Myanmar, Syria, Afghanistan, Mali and elsewhere.
Civil society, and women's rights organisations in particular, play an important role here. It is no coincidence that enhancing women's participation in peace processes was the primary recommendation from the global study's consultations, as outlined in PeaceWomen's report, Through the Lens of Civil Society.
Difficult conversations
This study challenges us to have difficult conversations about gender, feminism, women's and men's power, militarism, the root causes of violence, the arms trade, our approaches to peace. These are big and overlapping issues, which make us confront our use of power and ways of thinking.
This is critical for every country, including Australia as it progresses implementation of the Australian National Action Plan on Women, Peace and Security (2012-2018).
The global study is right: UN Security Council Resolution 1325 needs to remember its roots. The resolution is not about regulating war, but about waging peace.
The courageous women who gathered in 1915 came prepared to wage peace through having difficult conversations – and bringing them to the attention of the world. In some ways, their work was a precursor to the modern-day doctrine of feminist foreign policy, which places human rights and gender equality first in support of long-term prevention of conflict and violence.
Perhaps this 100-year history of women's activism can help us heed the call to chart a new course for waging peace.

Katrina Lee-Koo, Senior Lecturer in International Relations, Monash University and Sarah Boyd, Adjunct Research Fellow (Gender, Peace and Security), School of Social Sciences, Monash University
This article is republished from The Conversation under a Creative Commons license. Read the original article.