How Playboy skirted the anti-porn crusade of the 1950s
The Oasis Reporters
January 11, 2020
Whitney Strub, Rutgers University Newark
Playboy's decision earlier this month to jettison the nude images in its print edition lays bare the magazine's own naked truth: it was always really a lifestyle magazine, with nudes simply acting as window dressing.
If it seems counterintuitive for a quasi-smut mag to renounce its own seeming raison d'etre, it's important to remember that the magazine, since its inception, always held itself at a distance from the world of pornography.
The aspiration of Hugh Hefner's project was cultural legitimacy – not a globally recognized logo (today, more profitable than the magazine itself), nor the cultivation of a "girl next door" image.
The magazine – at least, how it presented itself – was simply too classy to be confused for porn.
For the most part, it worked.
As a historian, I've written about the postwar court battles over pornography and obscenity. And what's most striking about Playboy's story is how absent the magazine was from these legal wranglings.
An appeal to masculine taste
Look no further than Playboy's debut issue, which featured Marilyn Monroe on the cover.
Its famous opening manifesto announced: "If you're a man between the ages of 18 and 80, Playboy is meant for you." Their "articles, fiction, picture stories, cartoons, humor" would all be culled to "form a pleasure-primer styled to the masculine taste."
Before Playboy, other magazines did feature nude photos, but they were seen as culturally lowbrow: tawdry publications for unsophisticated readers. Other magazines, most notably Esquire, would position scantily clad women next to articles on food, style and other central features of the developing consumer culture, but not quite as boldly as Hefner's iconic centerfolds.
Still, Playboy treated its own nudity as playful and passé. While it did occupy the "centerfold," it was packaged as simply another accoutrement of the modern man's cultural repertoire, which included knowledge of proper cocktail proportions and the finer points of the Miles Davis discography.
The crusade against smut
Playboy's debut came just one year before America's moral panic over smut came to a head.
The House Select Committee on Current Pornographic Materials led the charge with a December 1952 report that highlighted "cheesecake" and "girlie" magazines, crime comics for children and, particularly, the burgeoning genre of lesbian pulp fiction novels, which – as the committee wrote in prose befitting its own targets – were "filled with sordid, filthy statements based upon sexual deviations and perversions."
Yet even in the midst of this frenzied postwar moral righteousness, Playboy eased comfortably into the mainstream.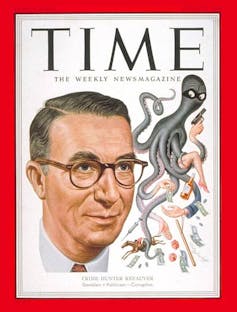 A few years later, when Democratic Senator Estes Kefauver launched his own anti-porn crusade, Playboy remained conspicuously absent from the hearings, which drew headlines like The New York Times' "Smut Held Cause of Delinquency."
Possessing presidential aspirations (and finely attuned to the optics of media spectacle, having pioneered televised hearings in his earlier investigations of organized crime), Kefauver decided against subpoenaing Hefner.
Instead, he tacitly pandered to anti-Semitic sentiment by forcefully grilling a predominantly Jewish group of erotic distributors. The white-bread Hefner remained above the fray while smut peddlers like Abraham Rubin, Edward Mishkin and Samuel Roth reluctantly testified before Congress. (Roth would suffer the most, spending five years in federal prison for distributing material not substantially different from Hefner's. His case also led to the 1957 Supreme Court precedent that still undergirds modern obscenity law.)
'Skirting' trouble
If Playboy emerged remarkably unscathed from these sexual-political skirmishes, Hefner nonetheless stayed perpetually cautious, calibrating the magazine to fit shifting contexts.
The pubic hair battles with Penthouse in the early 1970s – when Playboy started publishing more graphic images to compete in the expanding adult market – are most famous. But less remembered are earlier adjustments Hefner made to dissociate Playboy from cultural riffraff.
When Time covered the "horde of [Playboy] imitators yipping after pay dirt" in April 1957, it noted that new nude magazines like Caper, Nugget and Rogue were outpacing Playboy in "the smirk, the leer, and the female torso."
Yet rather going skin-for-skin with its competitors, Playboy tried to distinguish itself through topnotch fiction and journalism (as well as science fiction, as PhD candidate Jordan Carroll notes in his recent study of the magazine).
According to Time, Playboy ultimately found that the most "effective censor was success"; in response to growing readership and ad revenue, the magazine "toned down its gags and dressed up its girls."
Indeed, in one striking 1962 letter sent to Hefner by a suburban Chicago chapter of the conservative Citizens for Decent Literature, the group happily informed him that that it had decided not to include Playboy among its list of 37 magazines that should be removed from local newsstands.
Later, in the 1970s, Playboy would attempt to compete with the more graphic pornography unleashed by the sexual revolution and the weakening of obscenity laws. More recently, it has reshaped its content to adhere to the strict regulations of social media sites like Facebook and Instagram, which forbid users from posting female (but not male) nipples.
Clearly, 2015 is not the first time Playboy has switched up its strategy to respond to market forces.
The bunny supplants the girl next door
If Hefner's erotic vision was quaint enough to pass muster even with some conservatives in the early 1960s, today it's as retrograde as Don Draper. As Washington Post columnist Mireille Miller-Young observes, today's girl next door isn't uniformly white, thin, heterosexual and presented with a smarmy editorial voice. Instead, she could be a queer woman of color. She might even be publishing her own porn.
While the magazine once walked a tightrope between smut and sophistication, branding always remained Playboy's real strength.
Today, 40% of its revenue comes from China – where the magazine itself isn't even sold. Instead, a recognizable bunny logo that appears on products ranging from cigarette lighters to coffee mugs is what persists.
With limitless free online nudity a click away, the cash flow resides in a licensed logo that represents an upwardly mobile, urban lifestyle – much like it always did.

Whitney Strub, Associate Professor and Director of Women's and Gender Studies, Rutgers University Newark
This article is republished from The Conversation under a Creative Commons license. Read the original article.