Justice Yvonne Mokgoro: South Africa's Trailblazing Defender Of Justice, Human Dignity And The Constitution
The Oasis Reporters
June 11, 2023
.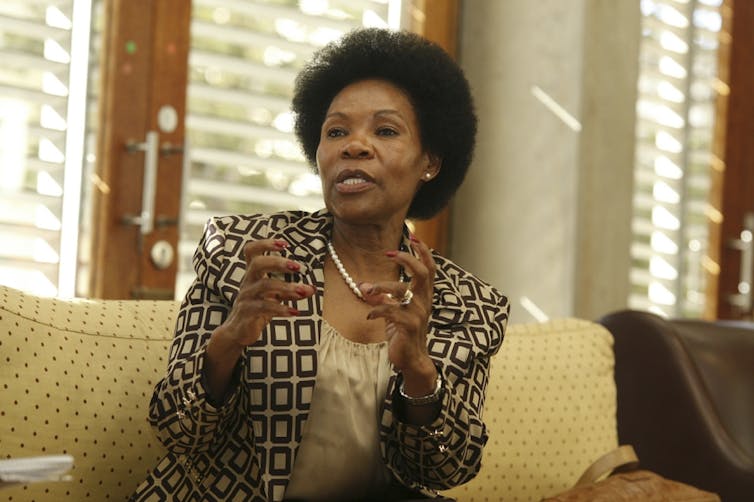 Omphemetse Sibanda, University of Limpopo


Many great legal minds have made important contributions to the development of the law, justice and constitutionalism in South Africa. One figure who stands out as a particularly influential jurist of the era is retired judge Yvonne Mokgoro. She was among the first justices of the country's new constitutional court, serving from 1994 to 2009.
Researchers at South Africa's Human Sciences Research Council have aptly described this remarkable jurist:



As the first black African woman appointed to the Bench in 1994, she brought with her fresh scars of the oppressive system of apartheid that alienated and marginalised her as a black person and as a woman … As a member of the Constitutional Court Justice Mokgoro was active and engaged, with her most lasting contribution being her efforts to Africanise human rights through the dignification of the law and the operationalisation of ubuntu as a constitutional value.
Robert Sobukwe, a pan-Africanist leader and lawyer, greatly influenced her to break the glass ceiling for women who wished to become lawyers, and her dedication to fighting injustice. Remarkably, he represented her in 1970 after her arrest for protesting against the ill-treatment of a man by the apartheid police.
I would argue that just as the US celebrates the late Justice Ruth Bader Ginsburg as a "legal, cultural and feminist icon" and human rights defender, South Africa can be proud to have the retired Justice Yvonne Mokgoro. She has dedicated her life to defending justice, equality and human rights for all.
The early years and education
She was born in 1950 in Galeshewe, near Kimberley in the Northern Cape, as the second child of working-class parents. She finished high school at the local St Boniface High School in 1970.
Her university education was mostly part time. She obtained an undergraduate (B Iuris) degree at the then University of Bophuthatswana, a Bachelor of Laws (LLB) two years later, and a Master of Laws (LLM) in 1987. She also studied at the University of Pennsylvania in the USA, where she earned a second LLM degree in 1990.
Mokgoro's journey included working as a nursing assistant, a retail salesperson and a clerk in the department of justice of the erstwhile nominally independent Bophuthatswana. She was also a maintenance officer and public prosecutor in the then Mmabatho magistrate court. She later became an associate professor of law at the University of Bophuthatswana (now North West University) and the University of the Western Cape.
Legacy
Mokgoro has served South Africa and its justice system with distinction. Her influence on issues of protection of children and vulnerable communities, transformation of the legal profession and parity for female legal scholars and lawyers will linger for decades. Her commitment to access to justice and nation building is commendable.
Her judgments and some academic works, such as the 1998 journal paper Ubuntu and the Law in South Africa, have become foundational texts for legal education in South Africa and beyond.
Her academic writing and judgments have aided the development of constitutionalism in South Africa.
She is a strong advocate for the rule of law and respect for the principles enshrined in the country's constitution. These include respect for human rights and dignity. She believes that all South Africans have a patriotic duty not to allow the constitution to slide into disrepute.
She is also an avid proponent of reconciliation and national cohesion. For instance, in her separate judgment in 1995), she eloquently argued for ubuntu (humanness) as the philosophy that should foreground interpretation of the constitution. She stated that:



Although South Africans have a history of deep divisions characterised by strife and conflict, one shared value and ideal that runs like a golden thread across cultural lines is the value of Ubuntu … While it envelops the key values of group solidarity, compassion, respect, human dignity, conformity to basic norms and collective unity, in its fundamental sense it denotes humanity and morality. Its spirit emphasises respect for human dignity, marking a shift from confrontation to conciliation.
Also notable is that she advocated for reconsideration of the place of African jurisprudence in relation to South African law, the South African constitution and customary law. She has urged the



revival of African jurisprudence as part of the total or broader process of the African renaissance.
Mokgoro's parents greatly influenced her role in the constitutional court. She did not see her position as a judge as being about power. It was about her responsibility to the people of South Africa, ensuring justice for everyone and improving people's lives.
Judgments
Mokgoro's advocacy for group solidarity and reconciliation is discernible in several of her judgments.
For instance, in Khosa and Others v Minister of Social Development, Mahlaule and Another v Minister of Social Development (2004) the constitutional court was faced with a challenge to the constitutionality of the Social Assistance Act, 1992. The act provided that only South African citizens qualified for social grants.
The challenge was brought by two indigent Mozambican citizens who were permanent residents in South Africa. Mokgoro upheld a decision of the high court to allow permanent residents to receive the grants.
She thus advanced the rights of immigrants and refugees in South Africa, and advocated for the protection of all children.
Legal icon
Mokgoro deserves to be celebrated as a selfless jurist who highlighted the centrality of the constitution and human rights in South Africa. She is an icon of the legal profession, a defender of the marginalised.
She is also one of the judges who, alongside Justice Albie Sachs, mainstreamed African jurisprudence through the use of ubuntu in some of her judgments.
Aspiring judges and law students would do well to know this remarkable woman's powerful judgments, which make clear the principles of human dignity and justice.

Omphemetse Sibanda, Executive Dean and Full Professor, Faculty of Management and Law, University of Limpopo
This article is republished from The Conversation under a Creative Commons license. Read the original article.