K-popnomics: How Indonesia And Other Nations Can Learn From Korean Pop Music Industry
The Oasis Reporters
Korean pop – K-pop – has taken the world by storm, not just in Asia, but also in Europe and America.
In 2016, global revenue from K-pop reached $US4.7 billion. This contributes greatly to stimulating South Korea's economy. Exports of cultural content and consumer goods have increased by at least 2% more than the country's total export growth.
Being both an economist and a musician has motivated me to elaborate the factors behind K-pop's success. We hope such discussion can benefit Indonesia or other nations in learning from South Korea how to support growth of their own music industry.
The rise of K-pop
The global music industry put Asia on its radar with the rise of Japanese pop (J-pop) in the 1990s. Since the early 2000s, however, K-pop has surpassed J-pop's popularity. Different from J-pop, K-pop music is strongly characterised by catchy beats and lyrics, extravagant personalities, vibrant costumes and synchronised choreography.
The success of K-pop does not happen by accident. It is a product of the South Korean government's effective implementation of macroeconomic growth theory which focuses on developing three key elements – physical capital, human capital and technology – to achieve maximum growth in its music industry.
Following the 1998 Asian financial crisis, the government decided to use music to improve the nation's image and build its cultural influence. The government poured millions of dollars into establishing a ministry of culture with a specific department devoted to K-pop.
An entire district in Seoul, the Chang-dong district, was developed to become the hub for K-pop. Concert halls, recording studios, restaurants and retail stores were built there to support K-pop's growth. The Seoul arena, also located in the district, is due for completion in 2020. It will be the country's biggest performance hall with a 20,000 seating capacity.
In fostering human capital, three major recording labels – SM, YG and JYP Entertainment – have been in the forefront in developing K-pop idols. Talents are placed into a rigorous training program for several years before their debuts. The training not only covers singing and dancing, but also lessons in foreign languages and public speaking.
Technology also plays an important role in supporting K-pop's growth. Every corner of public places in Seoul has free Wi-Fi. This makes streaming K-pop songs and videos easy, and thus enhances the popularity of K-pop music and concert sales.
South Korea is the world's leader in multimedia technologies. Hologram and virtual reality concerts, where fans can digitally interact with their K-pop idols, have been used as an alternative to live performance. The government plans to invest up to US$222 million by 2020 to develop further this cutting-edge innovation.
The list of factors contributing to K-pop's success goes on.
K-pop has successfully developed its "dance and song" market – a segment that the US music industry has neglected since Michael Jackson and the 1990s' boy-bands.
When sales of hard-cover CDs in other countries dropped, K-pop experienced the opposite. In 2012, the physical CD market of K-pop grew by 11% and represented around 74% of their sales revenue.
Entertainment companies have launched creative strategies to market their hard-cover K-pop music. For example, extra collectable items like photo cards of idols are included in the CD packages to lure the fans.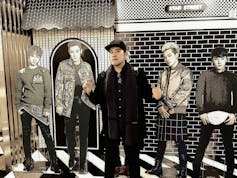 In the end, the Korean wave hit the world by storm and language is not a barrier for international fans to enjoy K-pop music in Korean.
This global cultural phenomenon improves South Korea's branding image. It creates a huge spill-over effect for Korea's other industries, particularly in tourism and manufacturing.
A study from the University of London estimated that South Korea has seen a return of $5 for every $1 spent on K-pop – not only from music, but also from its role in selling other Korean products like Samsung phones and LG televisions.
Indonesia's music scene
Indonesia is a nation blessed with natural resources and talented musicians. Singers like Sandhy Sondoro, Ruth Sahanaya and Agnes Monica have all accomplished international achievements. Indonesia is also not short of the younger generation of artists. To name just a few, it has Raisa, Afgan and Isyana, who are all musically gifted.
Indonesian music offers a wide variety of genres, ranging from pop to jazz. It also embraces more traditional genres like keroncong and dangdut music.
Recently, Indonesia was praised for its success in delivering the opening ceremony of the 2018 Asian Games. It featured brilliant music and dance presentations, which demonstrated Indonesia's ability to stage world-class performances. It also proves that the country is sufficiently equipped with human resources, physical capital and technology, which can be developed further to grow its music industry.
Way forward
Despite its potential, Indonesia's music industry has received only a little support.
When President Joko "Jokowi" Widodo came to power in 2014, he included creative industries in his priority list.
The government set up the creative economy division, Bekraf, to support the growth of a range of creative industries, including culinary, fashion, arts, music and many others.
The culinary sector contributes the most to Indonesia's creative economy outputs at 42%. Music contributed only 0.47%, even though there is much potential that the government can tap into.
In March this year, Indonesia held for the first time its national music conference. The event brought together various stakeholders and the government for an in-depth discussion on the opportunities and challenges of Indonesia's music industry. The conference formulated 12 action plans. One of these emphasises improvement of the welfare of Indonesian musicians.
Given their huge potential, Indonesia should learn from South Korea in exploring strategies to grow its music industry and turn it into a global sensation.
Indonesia would benefit from more government funding to develop the human resources, physical capital and technology of its music industry. A strategic expansion to distribute Indonesian music to neighbouring Southeast Asian nations would also be a worthwhile venture.
K-pop has claimed its share of the world market. It is about time that I-pop gives its best to do the same.

Tommy Soesmanto, Lecturer, Economics and Business Statistics, Griffith University
This article is republished from The Conversation under a Creative Commons license. Read the original article.