Kamala Harris's Visit Underscores The Tricky Choices Zambia Is Making About International Allies
The Oasis Reporters
April 7, 2023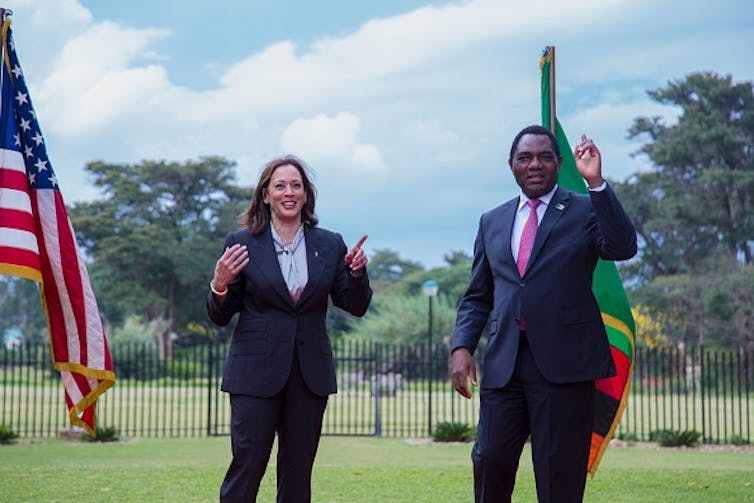 Christopher Vandome, University of the Witwatersrand


US vice-president Kamala Harris's recent visit to Zambia is an example the country's increased engagement with western nations. It gave fresh impetus to the view that Zambian president Hakainde Hichilema is strongly aligning the country to the west.
This has been evident from his pro-business rhetoric, western education and re-engagement with multilateral financial institutions and partners in the UK, the US and the European Union.
But this re-engagement has stopped short of a full pendulum swing. For example, the country retains strong ties to China.
Hichilema came to power in August 2021 on a promise of domestic economic revival, good governance and a business friendly approach. He set out a new direction for the country's foreign policy in his inauguration speech. This emphasised economic diplomacy and partnerships across the emerging geopolitical divide between western countries, and China and Russia.
Hichilema's support for democratic institutions and good governance has unlocked some investment. But this will take time to translate into tangible benefits for citizens. At the same time, China is recalculating the nature of its economic engagement with Zambia. This could mean a potential shortfall of investment in the short term when it is needed most.
The US is keen to address this gap and support ongoing reforms. Harris announced a US$16 million grant for new Zambian programmes. These include anti-corruption and other reform efforts. She also announced a memorandum of understanding on commercial projects and trade.
Her visit has been widely interpreted as part of America's efforts to counter what it perceives as Chinese influence on the continent. Most African leaders don't share such a polarised view. They are keen to assert their own agency and choose international partners on a more pragmatic basis.
My new paper argues that Zambia's interests are best served by remaining neutral on global geopolitics. It must maintain relations with partners in the east and the west, as well as nurture economic ties with its neighbours.
US courting Zambia
Zambia is important to the US for several reasons relating to global issues. These include:
as a democratic state and potential African ally for western powers on the continent
as a valuable producer of natural resources required for the global green transition, especially copper, cobalt, nickel and manganese.
The importance of Zambia has been underlined by successive high-level visits. These include US treasury secretary Janet Yellen meeting Hichilema on debt restructuring in Lusaka in January.
The developing relationship extends beyond finance. In 2022, US Africa Command announced a security cooperation agreement with Zambia, for which it established an office at the US embassy in Lusaka. Since 2014, the US government has invested over US$8 million in assistance for training Zambian battalions before deployment to the United Nations peacekeeping mission in the Central African Republic.
Zambia has also caught the attention of western partners by repeatedly voting against the war in Ukraine in the UN. In doing so, it broke ranks with larger players in southern Africa.
However, Zambian officials have pointed out to me that the vote is against the war, and not against Russia itself. The former Soviet Union, of which Russia was part, was the first to recognise Zambia as an independent state in 1964.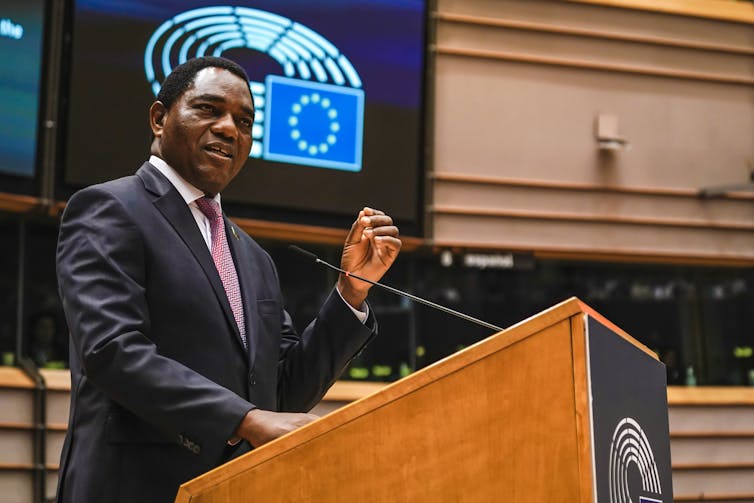 Hichilema has been keen to maintain relations with all partners. This has been most acute in his management of the relationship with Zambia's "all-weather friend", China.
Positive neutrality
Hichilema has taken an assertive approach to international relations. He has retained Zambia's tradition of "positive neutrality". While he has resuscitated relations with western partners, especially the US and the UK, his government has also maintained important relationships with China.
Successive Zambian leaders have had to balance the macro-economic importance of China with negative local perceptions. The relationship with China is a domestic political issue of growing importance. Many Zambians are suspicious of, or even hostile to, Chinese enterprises, citing unfair labour practices and human rights violations.
But Hichilema has maintained Zambia's relationship with China. A phone call with president Xi Jinping in May 2022 was instrumental in unlocking China's positive engagement in an ongoing multilateral debt negotiation. It also positioned Zambia at the forefront of Beijing's own "new development paradigm".
This aims to support small and medium-sized enterprises, human capital investments and green energy development, and emphasise foreign direct investment flows rather than loan financing.
Hichilema's self-styled "chief marketing officer" approach has also unlocked new investments and development support from a diversified mix of partners. These include Brazil, India, Japan, Saudi Arabia, South Africa, Turkey and the United Arab Emirates.
The most concerted effort has been to reinforce Zambia's regional relationships. Hichilema has made multiple regional visits – Botswana, the Democratic Republic of Congo (DRC), Malawi, Ethiopia, Eswatini, Kenya, South Africa, Tanzania, Namibia and Rwanda have been on his itinerary. These far outnumber his engagements outside Africa. He has entered bilateral arrangements with neighbours on agriculture, manufacturing and mining.
The US has recognised the attention Hichilema has placed on the development of regional value chains. In 2022, the US endorsed a memorandum of understanding with Zambia and the DRC to develop electric vehicle batteries. Such international support could be critical for overcoming industry scepticism about infrastructure and regulatory deficiencies.
Looking forward
Harris's visit is significant in maintaining the momentum of US engagement in Zambia, continuing efforts to unlock the debt process and supporting the economic value of democracy. New investment announcements will be welcomed by a Zambian administration keen to show results from its economic diplomacy.
But the US should expect Hichilema to maintain a neutral course on geopolitics, especially in its relationship with China. Hichilema stressed during the press conference with Harris that



good relations with the United States (do) not preclude good relations with China, and vice versa.
Christopher Vandome, Senior Research Fellow, Chatham House and PhD candidate, International Relations, University of the Witwatersrand
This article is republished from The Conversation under a Creative Commons license. Read the original article.