Kole Omotoso, The Nigerian Writer, Scholar And Actor Who Inspired A Continent
The Oasis Reporters
August 8, 2023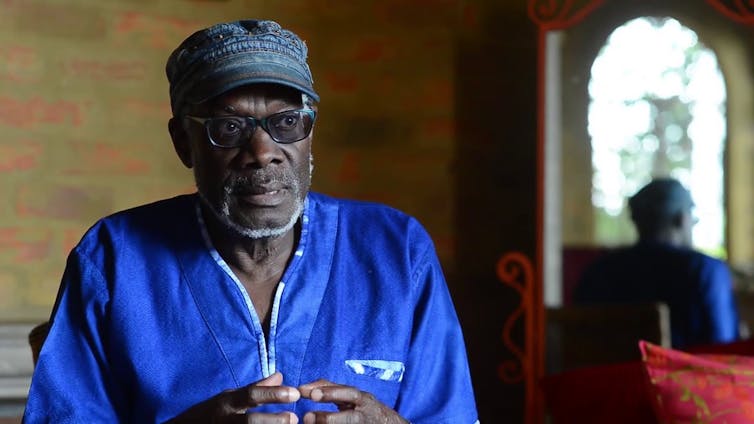 Olayinka Oyegbile, Trinity University, Lagos


Bankole Ajibabi Omotoso, better known as Kole Omotoso, the Nigerian novelist, playwright, journalist, scholar and actor, died on 19 July 2023. His son Akin Omotoso, a filmmaker, announced the death of the writer on Instagram.
It came at a time when Nigeria was celebrating the 89th birthday of Wole Soyinka, Africa's first Nobel laureate in literature and Omotoso's colleague at the then University of Ife. Both were so prominent nationwide that everyone wanted to go to Ife and study at their feet, especially those aspiring to a career in the arts or humanities.
Omotoso was an inspiration for me too, as a journalist, communications scholar and writer.
He wrote for various local and international magazines and was among the band of leading writers of his time who published their creative works locally. This was a boost to Nigeria's publishing industry. Many of his students are today leaders in academia or industry, and writers and producers in the creative sector.
Omotoso not only wrote plays but was an actor as well – that made him special. It's also impressive that someone with a doctorate in Arabic studies went on to become a professor of English language and drama.
His death at the age of 80 has left a chasm in Africa's literary landscape. His books and plays are testaments to his faith in Nigeria and the place of humanity in the world.
Early life and academic career
Omotoso was born on 21 April 1943 in Akure, Ondo State, south-west Nigeria. He was educated at Oyemekun College and King's College, Lagos. He attended the University of Ibadan, where he studied Arabic literature, and obtained a PhD in Arabic at the University of Edinburgh, Scotland.
He returned home to the University of Ibadan to lecture in the department of Arabic and Islamic studies (1972–76). He then moved to the drama department of the University of Ife (now Obafemi Awolowo University, Ile Ife) from 1976 to 1988.
He was a visiting professor in English between 1989 and 1990 at the University of Stirling in Scotland and worked at the Talawa Theatre Company in London in 1991.
In South Africa, he was a professor at the University of the Western Cape from 1991 to 2000 before joining the drama department at the University of Stellenbosch in 2001, where he lectured until 2003.
He then returned to Nigeria to lecture at Elizade University, Ilara-Mokin, Ondo State.
His legacy
Omotoso's literary oeuvre is rich and profound. It includes The Edifice (Heinemann, 1971); The Combat (Heinemann, 1972); Miracles (short stories) (Onibonoje Press, 1973); Fella's Choice (Ethiope, 1974); and Sacrifice (Onibonoje, 1974). Other books are The Scales (Onibonoje, 1976); To Borrow a Wandering Leaf (Fagbamigbe, 1978); Memories of Our Recent Boom (Longman, 1982); Just Before Dawn (Spectrum, 1988); and Season of Migration to the South (1994). He also published plays and critical works, among which are The Curse: A One Act Play in Four Scenes (New Horn Press, 1976) and Shadows in the Horizon: A Play about the Combustibility of Private Property (Sketch Publishing Company, 1977).
Perhaps his most enduring and important book is Just Before Dawn, which is categorised as "faction" – a mixture of fiction and facts in fictionalised form. I think he was the pioneer of this genre of writing in Nigeria. It remains an important legacy that should be read by any literate Nigerian. The book is a historical exploration of Nigeria's story and its publication was said to have been one of the reasons he fled Nigeria in 1989. The book was seen as too explosive and truthful.
Life in exile
In the heat of the ruinous military rule and the anomie of the 1980s Omotoso and other academics left Nigeria.
After a spell in Europe Omotoso settled in South Africa. There, he was popularly known for his role in commercials for the cellphone company Vodacom in the 1990s. He was the "Yebo Gogo man", who always humorously came to the rescue of an inept white man in various situations.
Personal encounters
My first physical meeting with Omotoso was in Kano, north-west Nigeria. I was a first-year student at the Bayero University in 1984/5 when he was touring the country to gather material for Just Before Dawn. A lecturer invited him to talk to my class. He spoke passionately about his project and why he was travelling around the country. His pep talks to us about Nigeria, her potential and the need to document our stories and history caught my fancy. The interaction left a great impression on me and helped shaped my interest in our country's stories.
A few years after I left the university, I met him again at the annual general meeting of the then-fledging Association of Nigerian Authors in Minna, Niger State. I told him I was one of the young undergraduates he'd spoken to years back when he was conducting research for his book. His face brightened, he smiled and shook my hands warmly.
He is survived by three children: Akin, a film director, Pelayo, an architect, and Yewande, a writer.

Olayinka Oyegbile, Journalist and Communications scholar, Trinity University, Lagos
This article is republished from The Conversation under a Creative Commons license. Read the original article.