Nigerian Elections Are Crowded With Candidates: Use This New Tool To Decide Who To Vote For In Your Area
The Oasis Reporters
February 23, 2023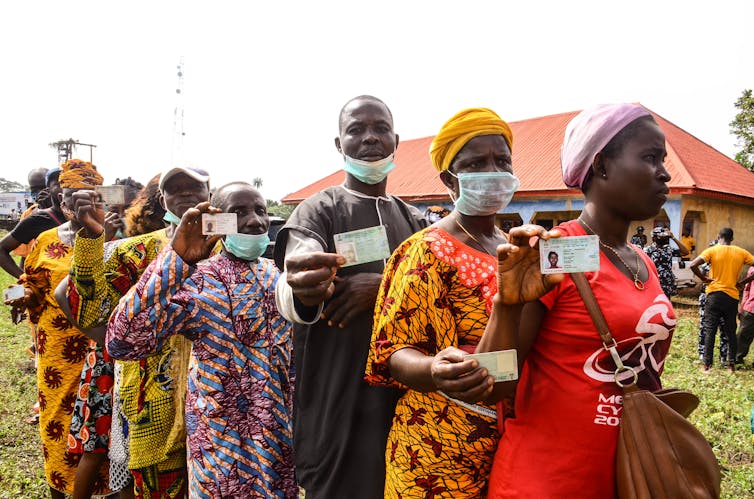 Hakeem Onapajo, Nile University of Nigeria


Eighteen political parties are contesting for Nigeria's presidential elections scheduled for 25 February. Yes, 18 parties. But that's not the highest number of parties in Nigeria's election history. The record was in February 2019, when 73 political parties presented presidential candidates.
In the 2023 elections, the Nigerian media have devoted most of their attention to four parties and their candidates. This leaves an information gap about the others. And the presidency is just one position being filled. There are hundreds of other political posts that will be determined.
To fill the gaps, a new election tool has been launched which will help voters decide who to cast their ballot for – and where.
The tracker
The tool, called My Candidate Nigeria, is an initiative that falls under the Africa Data Hub. Its aim is to inform voters and strengthen democracy.
The tool helps voters in Nigeria identify candidates for the elections based on their location address.
You can try it and discover who the candidates are and where to vote.
Focus on a few
The tool is important because the media has tended to focus on just a few candidates and their parties:
Some of the other candidates vying for presidency include former student leader Omoyele Sowore, contesting under the banner of the African Action Congress, and Adewole Adebayo of the Social Democratic Party. Kola Abiola is contesting on the ticket of the People's Redemption Party. We also have Hamza Al-Mustapha flying the flag of Action Alliance, and Dumebi Kachikwu of the African Democratic Congress. Chichi Ojei of the Allied Peoples Movement is the only female presidential candidate.
Hundreds of choices
There are 1,101 candidates for the Senate and 3,122 candidates vying for federal constituencies in the House of Representatives. The elections will be conducted across 176,606 polling stations.
In terms of gender, 3,875 candidates are male, made up of 35 for presidential and vice-president, 1,008 for Senate and 2,832 for House of Representatives.
Meanwhile 381 women are contesting: one for president, 92 for Senate and 288 for House of Representatives. There are also 11 people with disabilities in the race.
A total of 1,265,227 officials have been trained and will be deployed for the elections. They include presiding, collation and returning officers, as well as 530,538 polling unit security officials. The electoral commission will deploy over one million personnel and large quantities of election materials to 774 local government areas, 8,809 electoral wards and 176,846 polling units across the country.
The increased participation of young Nigerians is noticeable. Seventy-one million young Nigerians registered to vote in the elections, out of the total of 93.5 million registered voters. Young here means those who are under 50 years. Nearly 40% of those who registered are under 35 while over 33 million and 35.75% are between the ages of 35 and 49. It follows that those between 18 and 49 years could determine these elections if enough of them turn out to vote.
And that is why this tracker might help as young Nigerians are more technologically driven. They should be able to navigate their way through the electoral maze using it. It's intended to help voters make better and more informed choices.
MyCandidate Nigeria is an initiative of Open Cities Lab in collaboration with Orodata Science, Accountability Lab Nigeria and OdipoDev. Orodata Science, based in Lagos, is leading the project. Their mission is to establish a data-literate world. Open Cities Lab is a non-profit organisation that creates tools to improve trust and accountability in the civic space. And Odipodev is a market research and data journalism lab based in Kenya.

Hakeem Onapajo, Senior Lecturer in the Department of Political Science and International Relations, Nile University of Nigeria
This article is republished from The Conversation under a Creative Commons license. Read the original article.