Why The West Needs To Offer Brazil, India And South Africa A New Deal
The Oasis Reporters
May 22, 2023



Jose Caballero, International Institute for Management Development (IMD)


The unwillingness of some countries to back the west's position on Ukraine is a wake-up call. Western leaders must now determine what they can offer to powerful states including Brazil, India and South Africa to keep them onside.
A new generation of alliances could begin to redistribute global power and grant emerging economies greater input into decisions that affect, and reflect, their interests. New alliances could also include fairer terms of trade and more effective development or aid schemes.
This should help ensure the sustainability of a wider global alliance, for example, to back Ukraine. Currently the global consensus to back Ukraine seems to be fragmenting. For instance, despite Brazil's support for several UN resolutions in Ukraine's favour, it has not condemned Russia outright.
Brazil also rejected calls to send military materiel to Ukraine. And during India's time as a member of the UN security council, it abstained on votes related to the conflict.
All of this is a sign of wider unhappiness with western leadership of global institutions and global decision making and is perceived, by some, as the west having too much power over other states.
Where does power lie?
International power is largely defined by the relative economic and military strengths of countries as well as historic influence. The UN permanent security council membership, for instance, is based on post-second world war strengths.
Power relations are often described to be between superpowers or "great powers" and "non-great powers". These power gaps have led to large economies such as Brazil, India and South Africa being treated as less important in international affairs.
Some argue that international institutions such as the UN grant non-great powers a "bigger voice" to influence global affairs but simultaneously constrain their autonomy and deplete their already limited diplomatic resources. Their lack of a veto (only given to China, the UK, the US, France and Russia) often forces them to align their policy positions with those of superpowers.
This power structure ultimately leads to the marginalisation of states that may lack military strength but are considered economic forces in their own right, such as Brazil, India and South Africa.
China v the west
Into this mix of resentment about historic inequalities of power, China has added its own agenda, and power play: to provide and enhance alternative sources of political and economic influence.
Right now, China is keen to show that it has more to offer Brazil, India, South Africa and others than the west. An indication of this was that Brazilian president Luiz Inácio Lula da Silva's visit to China in April 2023 included many agreements and investment commitments.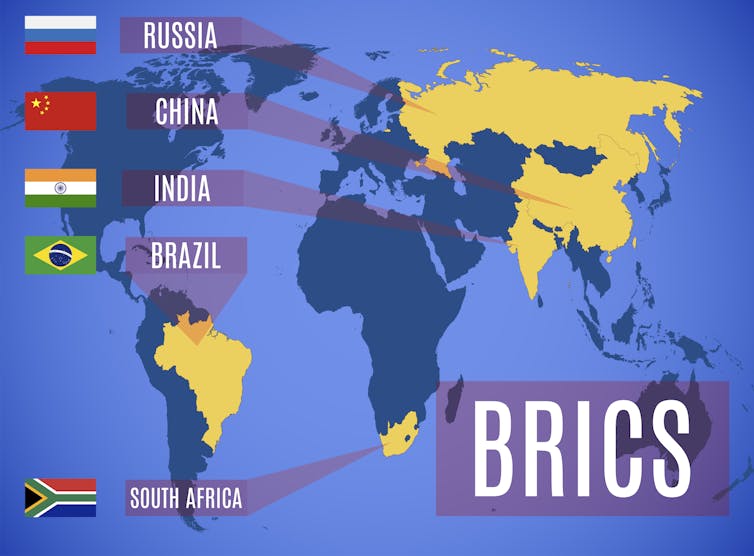 There is also evidence of a political and economic shift away from the US and towards China, in particular through decreasing reliance on the dollar and the strengthening of the Brics alliance of Brazil, Russia, India, China and South Africa.
This bloc was set up in 2009, arguably to erode the political dominance of the US and Europe. In 2015, the member states created the New Development Bank as a way of accessing infrastructure funding through an alternative to western-led economic institutions such as the World Bank and International Monetary Fund.
Then in 2022, the bloc began discussing expanding membership to other countries, with Argentina, Indonesia, Nigeria, Saudi Arabia, Thailand and the United Arab Emirates among those that have expressed interest. The organisation aims to represent a section of world GDP 30% greater than that of the United States, over 50% of the world's population, and control of 60% of the world gas reserves.
China rising
Meanwhile, China's military power within Asia may soon exceed that of the US, and so the US sees the need to counter China's influence in global institutions.
China's stated position of non-interference in the domestic affairs of other economies may seem more favourable to other countries. This is often compared to the west's interventions in other countries' domestic affairs, particularly the United States' long history of interventionism around the world.
An expanded Brics alliance provides an institutional platform for non-great powers such as Brazil and India to acquire a louder voice in international affairs. This can also grant them a more prominent role in making decisions that affect their national interests. Importantly, any expansion of membership will also increase China's diplomatic clout.
The challenge for the west is to counterbalance these trends so as to retain countries including Brazil, India and South Africa within its sphere of influence. A new deal, particularly for these large democratic countries, is likely to be crucial, and will need to be something that advances alternative models to the current state of international affairs.

Jose Caballero, Senior Economist, IMD World Competitiveness Center, International Institute for Management Development (IMD)
This article is republished from The Conversation under a Creative Commons license. Read the original article.